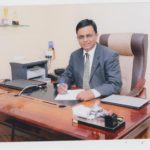 Dr Vishweshwar Kallimani   
        Ph.D (CSc), PGCHE (Nottingham Univ UK), Fellow HEA-UK,M.E (E&C). BE(E&C),MISTE, MIE
Principal
Dr. D.Y. Patil Pratishthan's College of Engineering  Kalamba Ring Road, Salokhenagar Kolhapur 416007 Office: 0091 (0231) 2320914, (M) 0091 7022304477
Our aim is to prepare our young Engineers with  Quality Education, Critical thinking, innovative and Problem solving
           Dr. D. Y. Patil Pratishthan's College of Engineering, Salokhenagar, Kolhapur was established in the year 2014 under the visionary leadership of Padmashree Dr. D. Y. Patil with a vision to promote excellent technical education & it is further nurtured by Hon. Dr. Sanjay D. Patil, President of Dr. D. Y. Patil Pratishthan, and Vice President Satej alias Bunty D. Patil, Minister of State Minister of State for Home (Urban), Housing, Transport, Information Technology, Government of Maharashtra.
We are committed to providing quality technical education, research and development work and patent filling to various needs of Industries which include business, Service Sector, and the society. The college has various UG Engineering Programmes, B.Tech in CSc, Data Science, Electrical, Civil, Mechanical Engineering, and provides an excellent quality education and realistic Engineering knowledge.
          Our emphasis is on Sustainability and Green Technology. We have implemented RWH, Renewable energy, Energy saving concepts, waste management. Our students will have an opportunity of designing green technologies, and further continue higher studies or get excellent  jobs or become Entrepreneurs. Under ARMY 100, students will have a rigorous training in Technical and non-technical multi disciplines and be ready for the nation and industry as a responsible Engineer.
          Our International exposure and connections are excellent, we have an International and National advisory board. We have organized many International Guest talks from eminent Professors, Experts and Scientists from Japan, Malaysia, Germany, Hong kong on smart cities, UN goals, IOTs, Data Science, Energy etc. Our industrial linkages provide a good exposure to our students via internship programmes and also employability possibilities in the industries.
          KIC (Kolhapur Incubation Center) has been operational in our campus since two years, students can become members and start their start-ups. All facilities will be given in the incubations center.
Our students develop their concepts and expertise by practicing innovative Engineering in learning, and practicing. They will be transformed into caring and responsible Engineers of the tomorrow.
  "Education is the most powerful weapon which you can use to change the world" – Nelson Mandela.
 "Teachers open the door, but you must enter by yourself" – Chinese Proverb
"If you nurture the nature, Nature nurtures you", Dr V.P.Kallimani