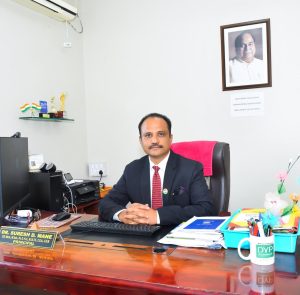 The vision of the institute is to prepare capable well groomed Engineers who can contribute in nation building and humanity at large.
Dr. D. Y. Patil Pratishthan's College of Engineering, Salokhenagar, Kolhapur was established in the year 2014 under the visionary leadership of Padmashree Dr. D. Y. Patil with a vision to promote excellent technical education & it is further nurtured by Hon. Dr. Sanjay D. Patil, President of Dr. D. Y. Patil Pratishthan, and Vice President Satej alias Bunty D. Patil, Minister of State Minister of State for Home (Urban), Housing, Transport, Information Technology, Government of Maharashtra.
We are committed to providing quality technical education, research and development work to serve the multiferous needs of Industries which include business, Service Sector, and the society. The institution offers the following UG Engineering Programmes viz, B.Tech in Computer Sc, Data Science, Electrical and  Civil Engineering. Sustained Efforts are on to provide excellent quality technical education and realistic Engineering knowledge for overall growth of the students.
KIC (Kolhapur Incubation Center) has been operational in our campus since 2018, wherein students can become members and start their start-ups. We welcome young enterprising students and budding engineers to avail the facilities in the incubations centers.
Our students develop their concepts and expertise by practicing innovative Engineering in learning, and practicing. Over their journey they shall be transformed into capable, caring and responsible engineers of the tomorrow.
We believe that " A nation is advanced in proportion to education and intelligence spread amongst the masses". Swami Vivekananda and "Education is the most powerful weapon which you can use to change the world" – Nelson Mandela.
We welcome your wards/children to come and join us, make best use of the resources in our institution to convert their dreams/aspirations into reality