Click on this image for 3D view of college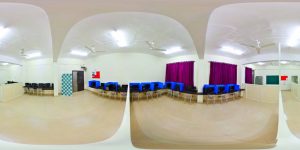 Padmashree Dr. D.Y. Patil, Ex-Governor of Bihar has created new realms for the people in India, which is affordable for both education and health facilities. Under his able guidance and leadership, the state of Maharashtra has seen development in the field of education and healthcare. D. Y. Patil Group is a major educational organization having three deemed universities to its credit and running nearly over 160 educational institutions, mainly in the area of professional education, covering various disciplines of knowledge in Health Care, Engineering & Technology and Management education.
The school years are the growth years of a child physically, emotionally, and socially. Keeping this in mind, the school aims to promote 'Excellence in Education' in every sense of the term. It also aims to impart to its students a liberal and a balanced education on modern lines, so as to inspire the students to become worthy of the rich cultural heritage of India. It shall develop positive attitude and leadership qualities in the students by providing the necessary atmosphere. The school is committed to uphold the highest academic standards with equal scope for co-curricular & outdoor activities. It strives to create an environment that will generate overall growth.